Grateful: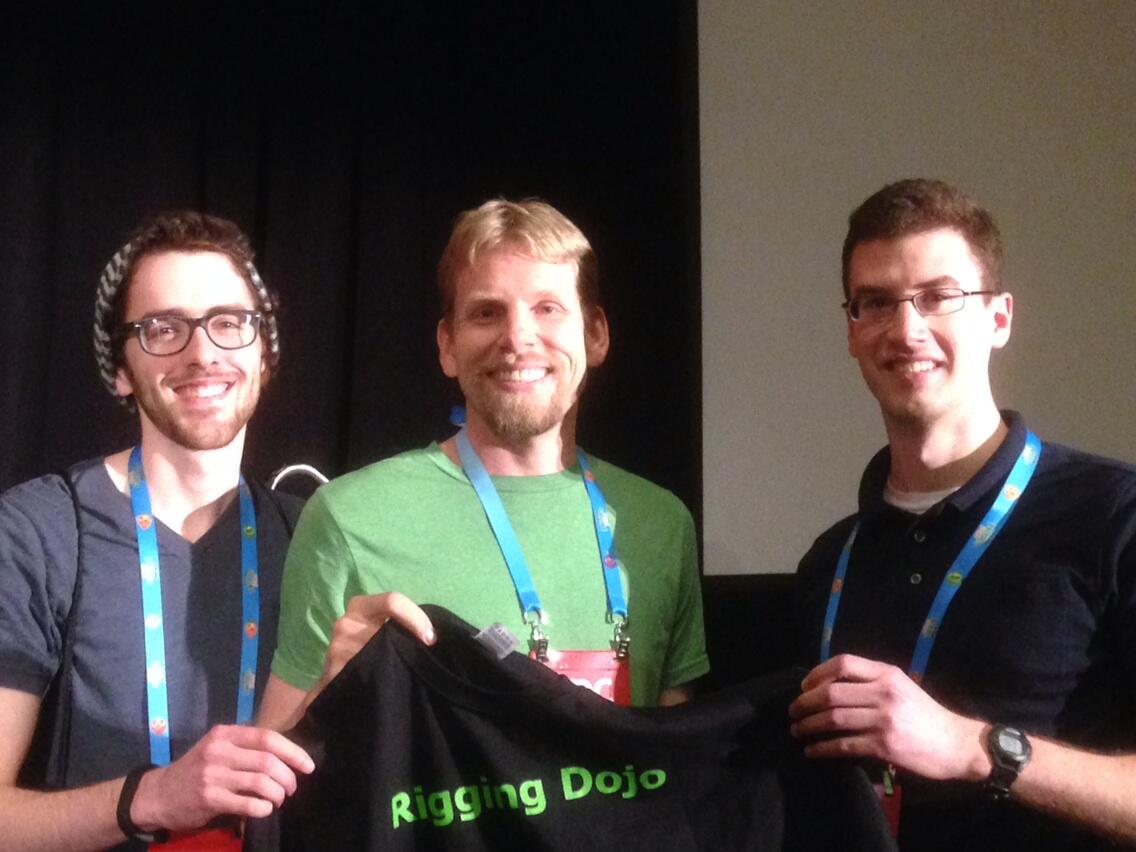 The Rigging Dojo "find Brad" scavenger hunt
Here are the slides from my talk at GDC. None of it could have happened, the talk or me using Filmbox years ago and more with out the man, the legend the mega awesome
Jason Parks
. Thanks for all the work and effort wrangling us all together for the bootcamp and fitting me in to the packed schedule of great speakers.
And I wouldn't have physically been there without everyone at
Rigging Dojo
for taking care of the trip, thanks Josh and Chad and our great community of mentors and students.

On with the Show!..er..um..Slides:
You can download the PDF here from the GDC Vault.
Note: Due to the difficulty of live demo during the time I had to present, I recorded detail videos walking through the tips on each slide. To get the videos you can contact me with Vault access proof (screen shot of you logged in to my talk,) and I will send you a download link.
Brad making sure everything would work...and then it didn't!
What people are saying about the presentation (super big cookies for that)!
"Just watched your talk on the vault. Packed with invaluable information! A+"
"... this was very useful for me as an animator who has to work with mocap regularly."
"... I have been using it for years and pretty much every single one of his tips were new to me....will save me countless hours in production."
@twitter - #hackmobu
Speaker notes: click the gear and choose speaker notes to see more details and step by steps
Session Name
Technical Artist Bootcamp: Hacking MotionBuilder: 10 Things You Aren't Doing but Should Be!
Speaker(s)
Brad Clark
Company Name(s)
Rigging Dojo
Track / Format
Programming
Overview
MotionBuilder, love it or hate it, if you work with motion capture or animation it is in your pipeline. This is a short session jam-packed with Brads best hacks to save you days of work per motion edit. In this session, you will learn to love it more or hate it less with hacks like effortless animation mixing, motion mirroring, quick squash and stretch, faster foot rigs, must-have scripts and efficient custom rig re-use. Techniques learned in this session, while focused on MotionBuilder, can be applied to the HIK rig in Maya as well.

#animtip #rigtip #Maya3d #MotionBuilder #